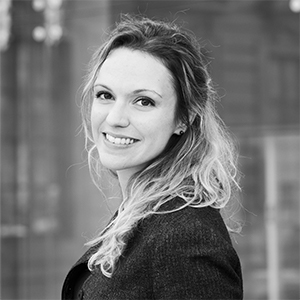 Maylis Brandou
Maylis was Deputy Director in charge of strategy and development from 2016 to 2019.
Between 2012 and 2016, Maylis was Communications Director. She created this division dedicated to the visibility, influence and appreciation of the work of Institut Montaigne. For four years, she defined and oversaw the implementation of the global communication strategy for all publications and actions of Institut Montaigne. After a visit at the Brookings Institute alongside David Nassar, Vice President for Communications, in June 2014, she developed the digital strategy as the core of Institut Montaigne's priorities. She was also Assistant Production Director of "Place aux idées", a debate program broadcasted on LCP-AN, between 2012 and 2015. Between 2010 and 2012, Maylis was responsible for questions regarding education, employment within Institut Montaigne. Under her supervision, various reports were produced: "Tackling Primary School Failure", "15 Ways to Improve Youth and Senior Employment", in addition to "Gone for Good? French Higher Education Expats in the US".
Maylis graduated from Sciences Po and the London School of Economics. She grew up in Latin America and later studied in France, Portugal and Great Britain.