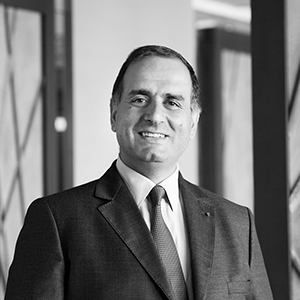 Marwan Lahoud
Chairman of OT-Morpho's Supervisory Board
After graduating from the "National Higher School of Aeronautics and Space" SUPAERO, Marwan Lahoud joined the Test center of the Directorate General of Armaments (DGA) in the Landes in 1989 as Deputy Manager, before becoming in 1992, Deputy Director responsible for research and development.
A year later, he entered the Ministry of Defense as Deputy Director of missiles and space and was advisor for industrial affairs, research and armament between 1995 and 1997. In 1998, he started working for Aerospatial-Matra, of which he would become member of the Board of Directors in 1999. Starting in 2000, he became responsible for the mergers and acquisitions of EADS and was appointed Deputy General Manager of strategy in 2007. He joined the executive committee of EADS, named Airbus group in 2014, and is currently Deputy General Manager of the group.
He is also a member of the supervisory board of the BPCE, and President of the grouping of French aeronautic and spatial industries (Gifas) since 2013.