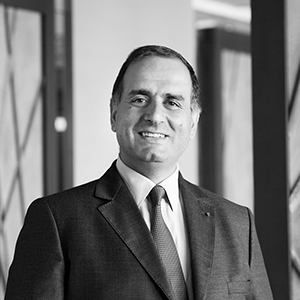 Marwan Lahoud
Executive Chairman and Managing Director, Ace Capital Partners
Marwan Lahoud joined Institut Montaigne's Board of Directors in 2014. He regularly contributes to the work of Institut Montaigne on cyber crime.
Marwan Lahoud joined Ace Capital Partners as Chairman of the Supervisory Board in 2019 and became Executive Chairman and Managing Director in 2020, after joining Tikehau in 2018. He started his career at the DGA (French DoD) in 1989 at the Landes test range, where he led the Computation Centre. He joined the cabinet of the French Ministry of Defence in 1995. He then joined Aerospatiale in 1998 as Corporate Vice President of Development. In 2000, he contributed to the creation of EADS and, following the merger, became Senior VP M&A (now Airbus Group). Lahoud was CEO of the developer and manufacturer of missiles MBDA (2003-2006), before returning to Airbus, where he held various positions (2007-2017), including Executive Vice President International, Strategy and Public Affairs of Airbus. 
He is also Honorary Chairman of the French Aerospace Association (GIFAS).
Lahoud is an armament engineer, a former student of École Polytechnique, and a graduate of the National Higher French Institute of Aeronautics and Space (ISAE-SUPAERO).