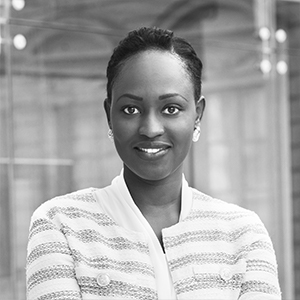 Bousso Dramé
Director of Policy and Studies
Bousso is Director of Policy and Studies. She is in charge of structuring and managing Institut Montaigne's intellectual production, articulating a strategic direction for our works. She joined Institut Montaigne in November 2017.
Bousso began her career in 2008 as Policy Analyst for the World Bank Group. Successively based in Washington D.C., Nairobi and Dakar, she spent four years advising various African governments on social policy and investment climate reforms for the private sector. From 2013 to 2015, she worked as an independent consultant advising, among others, Mali's Ministry of Mining on matters pertaining to community development, sustainable development and vocational training. In 2015, Bousso joined Greenpeace Africa as Senior Policy Advisor. There, she developed and implemented a policy strategy for the Oceans Campaign and carried-out advocacy work at regional and continental levels in favor of sustainable fisheries and oceans protection in West Africa. For several months, she was appointed interim Senior Oceans Campaign Manager and led the campaign team covering the West Africa region. In 2017, as a consultant, she conducted ad hoc missions on environmental policy and development issues
A Senegalese national, Bousso, who undertook part of her undergraduate studies in Mexico (ITAM), graduated from the London School of Economics and Sciences Po Paris.
 
Contact
This block is broken or missing. You may be missing content or you might need to enable the original module.