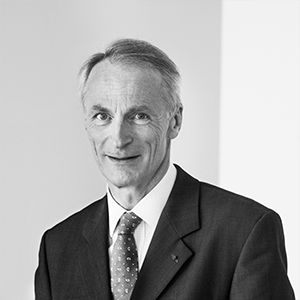 Jean-Dominique Senard
Chairman of the Board of Directors, Groupe Renault
Jean-Dominique Senard serves on Institut Montaigne's Board of Directors as Vice Chairman (since 2017). He is co-chair of several reports published by Institut Montaigne, including the ones on the future of responsible capitalism in Europe (2020) and on reconciling economic growth with the environment (2016). 
Jean-Dominique Senard is Chairman of the Board of Directors of Groupe Renault. Prior to joining Renault, he served as Chief Executive Officer of Michelin (2012-2019), a group he initially joined in 2005. He started his career with various financial and operational responsibilities at Total (1979-1987) and Saint-Gobain (1987-1996). Senard was the financial director of Pechiney and member of the executive committee of the group (1996-2001) and joined the group's directorate of the primary aluminum sector (until 2004). As a member of the executive committee of the Alcan group, he oversaw the integration of Pechiney and became president of Pechiney SA. 
He is also Director of Nissan Motor Co., Ltd. and Lead Independent Director and Chairman of the Strategy and CSR Committee of Saint-Gobain.
Senard is a graduate of HEC Paris and holds a master's degree in Law.