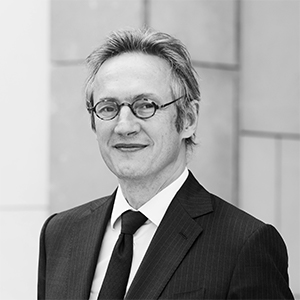 David Azéma
Partner, Perella Weinberg Partners
David Azéma serves on Institut Montaigne's Board of Directors as Vice Chairman (since 2017). He is the author of a policy paper published by Institut Montaigne on the management system of the French State (2017). 
David Azéma is Partner and head of the Advisory practice in France at Perella Weinberg Partners, a position he has held since 2017. He started his career in 1987 as an Auditor at the Court of Audit. In 1993, after two years at the Ministry of Labor, he joined the SNCF, France's national railway company. He later worked in the UK, where he served as President of the ICRRL (Intercontinental and Regional Railways Limited), and after that as CEO of Eurostar Group Ltd, affiliates of the SNCF, of the SNCB, and of Eurostar UK, responsible for the high-speed services of the Eurostar. He joined the VINCI group in 2002, and was Deputy General Manager of VINCI concessions. In 2008, he returned to the SNCF where he later became president of the Executive Board of the Keolis group (until 2012). Between 2012 and 2014, he served as Chief Executive of the Agence de participations de l'Etat (State participation agency). From 2014 to 2016, he served as Chairman of Global Infrastructure group, as well as Vice Chairman of the Global Corporate & Investment Banking (GCIB) for Europe, the Middle East and Africa at Bank of America Merrill Lynch.
Azéma holds a bachelor degree in Law and is a graduate of Sciences Po Paris as well as the French National School of Administration (ENA).