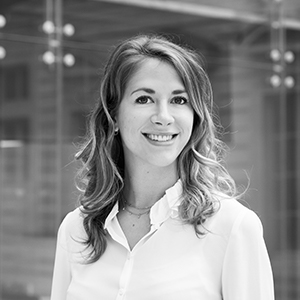 Alice Baudry
Then Marketing & Communications Director
Until 2021, Alice Baudry served as marketing & communications director at Institut Montaigne. In this capacity, she worked with a team to define and implement all digital, media and events strategies, and oversee the brand imagery and the corporate membership experience.
Alice joined Institut Montaigne in 2015 as project manager working with the director. In 2017, she became in charge of international affairs to develop Institut Montaigne's network abroad, particularly in the United States and Europe. In charge of strategy & development in 2018 and 2019, Alice prepared Montaigne's strategic plan and expanded its group of corporate members, in France and abroad.
She has been a columnist for the weekly radio show "Mediapolis" on Europe 1 since 2017.
Alice also co-authored the book "Macron, et en même temps…" (Plon, 2017) with Laurent Bigorgne and Olivier Duhamel.
Alice is Franco-Swedish and American. She is a graduate of the London School of Economics (LSE).