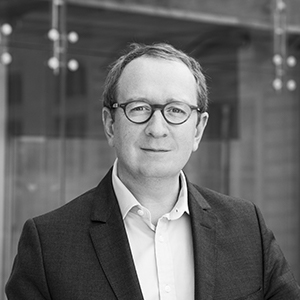 Laurent Bigorgne
Director
Laurent Bigorgne has been Director of Institut Montaigne since 2011. 
In this role, he wishes to promote the dialogue with France's European partners and to contribute to the public debate by proposing practical recommendations to reform French public policy. Laurent has personally supervised the publication of reports and other policy papers on education. He has encouraged various innovative initiatives for Institut Montaigne, such as the budgetary analysis of candidates' programs for the regional elections (2015), municipal elections (2014), and the last two presidential elections (2012, 2017), a citizen's conference held in 2012 on France's healthcare system, a testing on religious discrimination in hiring, as well as multiple investigations on suburbs in France. 
Passionate about education, he used to be a teacher before working at Sciences Po between 2000 and 2008, first as Dean of studies, later as Vice President. He also spent a year in London on secondment at the London School of Economics, in 2009. 
Laurent is President of two non-profit organizations working in the field of education, Agir pour l'Ecole and Le Choix de l'École, and he is member of  the Board of Directors of the Lycée International de Londres Winston Churchill in London. Laurent is also co-author of the book 'Macron, et en même temps…' (Plon 2017) with Alice Baudry and Olivier Duhamel.
Laurent Bigorgne graduated from Sciences Po Paris, and holds an "Agrégation" in History.